---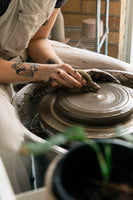 6 week intermediate wheel course: Tuesday nights January 30th- March 5th
Snakebird Designs
Tuesday nights, 5.30-8.00pm

6 week term, running from Tuesday 30th January to Tuesday 5th March
WHY LEARN WITH SNAKEBIRD?
You may get a cheaper term course elsewhere, but the student experience in the Snakebird Studio is unique in the following ways! 
Small class = one on one attention! Throwing on the wheel is a real challenge. The intimate class size of only four students at a time ensures that you won't get left behind and  can ask lots of questions and get plenty of one-on-one time

Learn at your pace Instead of a cookie-cutter approach, the pace is led by each individual and will cater to your level! The flexibility of a small group allows us to change the course content as needed so that everyone is challenged at an achievable rate and never overwhelmed.
Sustainability Snakebird Designs is focused on reducing our environmental impact as potters. In 2024, all studio glazes will be made with second life or "waste" materials, so your pots can be more connected to where they are from and reduce the inclusion of virgin mined materials! Sarah utilises every opportunity to share her learnings about more ecologically responsible practices with you!
Flexibility Don't feel like you're being pushed out the door- the longer class times of 2.5 hours allows for enough time to get settled, watch a demo and get plenty of hands on time before packing down, and you'll always be encouraged to finish the pot you're working on without having to rush out at 8 on the dot! 
Stay in touch! Once you finish the course, you're welcome to contact Sarah with questions as you continue your pottery journey- she'd much prefer you feel confident and equipped to continue safely and have fun.
WHAT WILL I LEARN?
This 6 week term course will build upon the skillset learnt in the beginner term course. Students will continue to refine their wedging, centering and trimming skills and tackle more complex forms. 
How to make a unified set- creating continuity through form and decoration

How to throw larger bowls and plates on bats

How to use calipers to create fitted lids for jars

How to trim footrings

How to explore your style and preferences by using underglaze, oxides, stains and dipping glazes to achieve a desired look

How to attach clay to a wheel thrown piece, such as adding a handle to a mug
Students will be guided at their individual level, but you can expect to make larger items than in term 1, such as soup bowls and a lidded jar. 
WHAT IS INCLUDED IN THE PRICE?
All clay, glazes and materials used during the course
Sarah Muir-Smith from Snakebird Designs will be your teacher. Having several years of teaching experience, she prides herself on providing a fun, supportive environment to learn through movement and connection with natural materials. Respect for the land and materials used are integral to Sarah's practice.
Sarah is enthusiastic and patient and will make sure you feel right at home in the class! Student curiosity and independence is encouraged and facilitated in this course.
WHO IS THIS COURSE FOR?
This course is for students who have completed a beginner wheel course with Snakebird or elsewhere and are comfortable throwing small cups and bowl form off the hump already. If you're not quite confident, why not enrol for the beginner wheel course instead?
Class size is a maximum of 4 students, so this is a rare opportunity to get almost private tuition on the wheel!
Please refer to Sarah's work on instagram (@snakebirddesigns) to get a feel for the kind of look and feel of her ceramics and see if it's a good match for your aesthetic preferences. The Snakebird Studio is committed to using waste materials where possible going forward. 
THEN WHAT?

Utilise the Snakebird Studio Access to come in and practice your wheel throwing skills, or enrol in the intermediate course next! 
I HAVE A QUESTION!
No worries! Shoot an email through to hello@snakebirddesigns.com with your query and we can have a chat.