---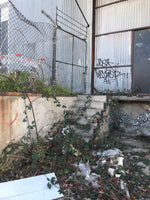 Found and Foraged Workshop
Snakebird Designs
(Jump down to the headings for the short and snappy version!)
This three hour workshop is made as a loveletter to our environment, a rejection of throwaway culture and a chance to experiment and play. In this workshop you will create a ceramic piece to take home using 'waste' materials from the area, and will have an opportunity to share tips tricks and thoughts on resourcefulness and ways of living/making that are gentle to the planet with other likeminded people.
Using materials found in abundance in our urban environment of Coburg North in Merri-Bek (an area unfortunately strewn with litter), we will create a vessel to collect future treasures in. 
You will learn how to use items from your everyday environment in ceramics, including crushed rock (scoria), glass, rusty metal, and how to combine a finished work with found materials like soft plastics and natural materials like sticks and plant matter as handles. 
WHEN
Saturday 7th October, 10am-1pm
WHERE
The beautiful Snakebird Studio, located in Coburg Studios at 69 Charles St, Coburg North/Merri-Bek (Wurundjeri Woi Wurrung Country)

The teaching space is very relaxed and sensory friendly- think warm fairy lights, soft music, lots of plants!
WHAT WILL I LEARN?
how to incorporate found 'waste' materials like broken glass and crushed rocks into your clay body
how to forage respectfully (this is an open and ongoing discussion, I'm not the authority on this!) 
how to make a ceramic colourant solution out of rusty metal to decorate your ceramics
how to build a pinched/coiled vessel out of clay
WHAT WILL I MAKE?
A bowl/basket that can hold future gathered materials (not for eating or drinking out of)
WHO WILL BE TEACHING ME?
Sarah Muir-Smith from Snakebird Designs will be your teacher. Having several years of teaching experience, she prides herself on providing a fun, supportive environment to learn through play.
Respect for nature and the materials used are integral to Sarah's practice. Enthusiastic and patient, Sarah loves assisting her students to come out of their shell and get in touch with their creative side.
Sarah held her first solo exhibition In Plain Sight at the Louis Joel Gallery in 2022, where each artwork used a material from her immediate environment (including kitty litter, antacids and laxatives!) Curiosity and resourcefulness drive Sarah's creative practice.
WHO ARE THESE SESSIONS FOR?
Experienced potters and curious beginners alike! No previous pottery experience is needed. 
Please note: unfortunately the studio can only be accessed via a flight of stairs which may cause difficulties for those with certain mobility needs.
I HAVE A QUESTION!
No worries! Shoot an email through to hello@snakebirddesigns.com with your query and we can have a chat.